---
Welcome message from Eddie Mak
Hong Kong Commissioner to the United States
---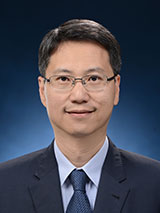 The mission of the three Hong Kong Economic and Trade Offices in the US is to enhance mutual understanding between the US and Hong Kong. The longstanding ties between the US and Hong Kong go beyond trade and commercial interests to encompass deeply personal cultural bonds and exchanges.
Like many other places, our community has been weathering the challenges and isolation of the Covid-19 pandemic that has disrupted our lives. Nevertheless, in this new "normal," we still look for ways to connect with one another. A seam threading our communities together is a shared appreciation of the arts.
While we would prefer to showcase Hong Kong's unique and vibrant arts and cultural scene to you in person, we must adapt to the times. With the launch of this virtual space, we aim to bring directly to you some of the best of Hong Kong's diverse arts and cultural programming. Over the course of the coming months, this space will bring you everything from lively jazz ensembles and innovative ballet performances to the artistry of sand painting, art talks and exhibitions, and much more. "Watch this space," as they say.
We hope to exhibit some of the exciting developments in Hong Kong's arts and cultural scene, much of which is driven by the West Kowloon Cultural District. Situated along Victoria Harbor, the West Kowloon Cultural District is emerging as a world-class integrated arts and cultural district. The district is home to dedicated spaces for visual culture, traditional Chinese opera, interpretive performances, Chinese artifacts and international dance and theater.
Wherever you are, I hope The Hong Kong Arts and Cultural Experience offers a respite from the uncertainty of the past few months. I remain hopeful that one day we will once again be able to bring to you, in person, the best of Hong Kong's arts scene.